Art Blossoms Education
"Learn how to program while interacting with a one of a kind artificial flower field"
Experience this learning lab fascinating young learners about STEAM.
This installation was made possible by SkySpirit's autonomous flying SkyOrbs and intelligent kinetic flower stations.
Intuitive programming steps
In this special installation everyone can learn how to program with an intuitive and visual interface. First exhibitioned at Experimenta, Heilbronn the Programming Lab tought about the world of coding. Each puzzle piece functions as part in the code of your AI Blossom and makes it possible to change it's behavior.
5 intelligent kinetic flower stations, 1  flying sphere
__________________________________________________________________
Features:
Coding Station
Unique Design
Intuitive User Interface
Promoting STEAM Education
Adaptable for OpenRoberta and Arduino
Innovative ability through enthusiasm for inspiring innovations
Interdisciplinary work
---
Scan the puzzles
The intuitive user interface allows everyone to change the behavior of the artificial flowers. Just scan the cards and you will start the magical movements of the flower field.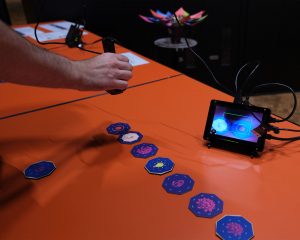 Programming possibilities
As demonstration for learning about further programming skills, the flying sphere shows possibilities and opens up the fascinating world of engineering.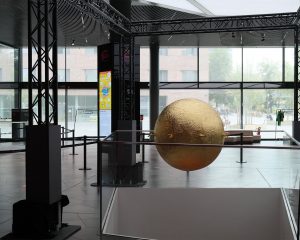 Installation at Experimenta
In the "AI Blossom Coding Lab", visitors in Heilbronn  were able to design the behavior of their own flower or program an entire flower field and thus learn the basics of artificial intelligence.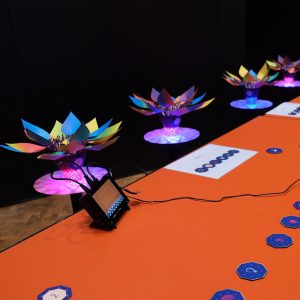 Bring me to life!
This installation was exhibited at Experimenta, Science Museum, Heilbronn in Summer 2020.
Interested in customization or further information? Feel free to contact us!
sales@skyspirit.de