AI Blossom at Experimenta Heilbronn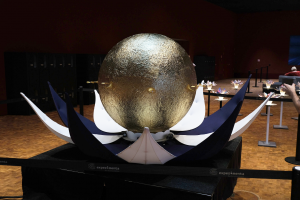 Until the 13th of September, Experimenta was showcasing the "AI Blossom" performances in a special event.
About the performance
The artificial blossoms are inspired by nature, interact with the visitors and magically show the potential of artificial intelligence. Among the exhibits is also a very special attraction: a 3.20 meter diameter blossom with a 1.20 meter golden sphere inside. It magically rises, floats through the air and then lands back inside the artificial plant, delicately enveloped by the petals.
The artificial flowers designed by Stuttgart-based SkySpirit GmbH are both fascinating and mysterious. They combine nature and technology and, as a robotics learning platform, are intended to raise awareness in the fields of education, art and technology. A special highlight is one artificial blossom, which measures 3.20 meters when opened.
> More than 9000 hours of interaction
> More than 15000 visitors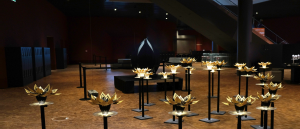 For Unity Installation
The installation "AI Blossom for Unity" shows that flowers can communicate with people. The sensors installed in it register passing visitors, allow the flowers to interact with them and can even express feelings.

Blossom up Heilbronn
Participation is encouraged at the "Blossom up Heilbronn" station: here, anyone can design petals individually and arrange the finished works of art as part of a large flower meadow. In this way a collective work of art is created.

AI Blossom Coding Lab
Finally, in the "AI Blossum Coding Lab", visitors can design the behavior of their own flower or program an entire flower field and thus learn the basics of artificial intelligence.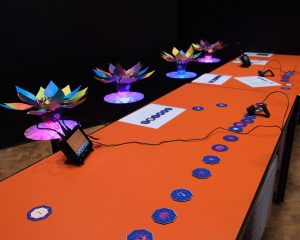 All the exhibits described were showcased in the science museum Experimenta until September 13.
More information and videos are coming soon!